Introducing The Next Headliner For Your Music Event
It appears that the Groove Is In The Heart, and on the musical fields. We thought we'd flashback to our favourite signature tunes from the top festivals this year before the season for glitter, wellie boots and the great outdoors is truly over... until the Christmas party scene, that is. 


Bestival
Missed the festival at the weekend? We've got your back. Check out our top 10 songs from the line-up over the weekend.


Headliners include: 
Major Lazer - Light It Up -remix (feat. Nyla & Fuse ODG)
The Cure - Friday I'm In Love 
Wiz Khalifa -  See You Again (ft. Charlie Puth)
Sean Paul - She Doesn't Mind

Glastonbury
Headliners include:
Beck - Loser
Ellie Goulding - On My Mind
Earth Wind & Fire - Let's Groove
Cyndi Lauper -  Girls Just Want To Have Fun
LoveBox
Headliners include:
Major Lazer - Lean On  
Diplo - Where Are You Now (with Skrillex ft. Justin Bieber)
Jack Garratt  - Breathe Life
British Summertime
Headliners include: 
Take That - Rule The World
Pharrell Williams - Happy
Olly Murs - Please Don't Let Me Go

Just Can't Get Enough? Rumour has it that Lucky Voice's Pop Up Karaoke and Lucky Voice Live are the latest rising stars. Looking for two new headliners for your next music event? Then we'll be able to help. 


To give you a sneak preview of what to expect, here's a throwback of our Pop-up Karaoke at Wireless Festival for 3 days with more timeless tracks flying around than neon bands.
Crowds of 8 bundled into the booth, tweeted their singsong snaps, trilled to their hearts' content and clutched their musical memories from the karaoke pop-up.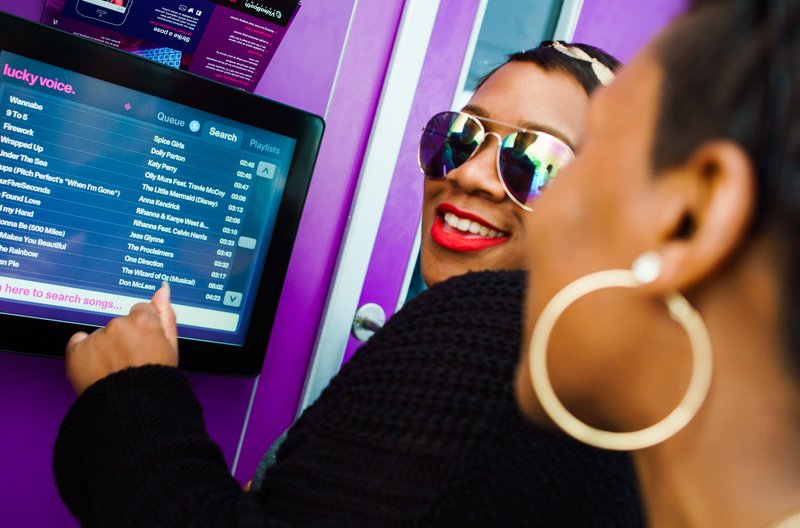 No matter if it's 1986 or 2016, we're here to celebrate throwback tunes and signature songs whatever decade. Just email thomas@luckyvoice.com to join the party! 
Share this post: